If you are visiting this platform for the first time, we want to say a very big welcome!! On this platform, we will try as much as we can to allow you to have full access to political activities in Nigeria that are tailored towards her national developments. Therefore, we will always be updating our political news along current political development in Nigeria.
Nigerian politics interest not only the nation's residents, but people who live around the globe. We offer political news updates in Nigeria on a daily basis. Whenever you are interested in learning about the latest Nigeria political news updates, come to our website. We strive to post political Nigeria news updates as they take place. You will never be behind the times if you follow our posts. If you want to see more about specific political news updates in Nigeria, feel free to contact us or to contact one of our writers. We want to make sure you are happy with the Nigeria political news updates that we are providing; we value our readers' opinions!
THE NEWS!!!
Rotimi Amaechi, minister of transportation, says the current administration will not "abandon the good ideas" of previous governments, including that of former president, Goodluck Jonathan. Amaechi said this at Idu, Abuja, while inspecting the Abuja-Kaduna Rail project along with the contractors, China Civil Engineering Construction Company.
He said N150 billion would be used to execute the national rail project, with another N60 billion for the Lagos-Kano standard gauge and yet another N60 billion for the Lagos-Calabar project. "What we are doing is implementation of what we met in office. We are not among those who will abandon good ideas," he said. "If we see an idea that is good, we will adopt it.
The Lagos-Kano project was awarded by former President Olusegun Obasanjo and we are flying with it. "The Lagos-Calabar project was awarded by former President Goodluck Jonathan and we are also flying with it. What we are doing is implementing those projects that have not been implemented for so many years." He said the Abuja-Kaduna Rail project was 100 per cent complete and would be launched in May. Amaechi explained that before the launch by President Muhammadu Buhari, there would be a test-run of the rail in March. "The essence of my tour is to enable us assess whether we are ready for commercial activities and I think we are. I will be travelling from Abuja to Kaduna tomorrow through the rail," he said. "In March, they should start the test-run of the rail services for free, then the proper commercial activity will start in May, where we expect the President to flag-off the use of coaches."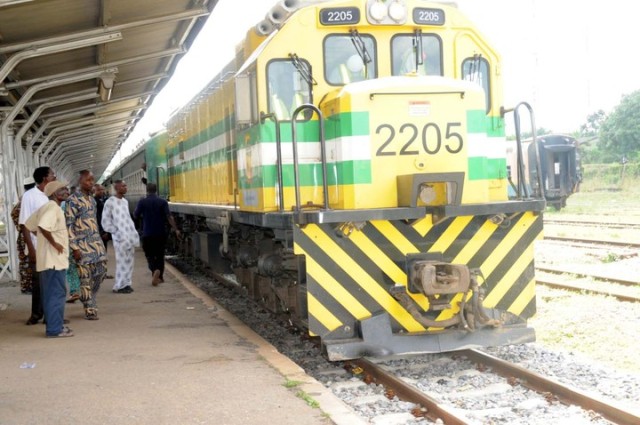 He advised the contractor to make provisions for temporary stations in Abuja, since Idu is "too far from the city centre". Amaechi suggested that since the Abuja light rail project had yet to commence, the tracks could be used to pick passengers from the city centre to Kaduna. "The Abuja light rail is expected to start from Abuja and de-board passengers at Idu from where such passengers will move to Kaduna but since the Abuja light rail is not ready, we shall use their tracks to continue to pick passengers from Abuja until they are ready and then we will disengage the temporary facility," he said. "The role of the station is to convey passengers to Idu, where they will be transferred to the national rail line to proceed to Kaduna."
He said the only challenge with the project was the fencing. "We need to fence the lines to prevent animals from crossing the rail," he said. "The tracks are finished and the signalling at Idu is also completed but the major problem we have is fencing and it is because of the peculiar nature of our culture. "Because of our culture, we have to fence and we are going to spend close to $100 million to fence the tracks from Abuja to Kaduna just because we have to protect the railway from animals and human crossing. "The train currently goes at the speed of 60 to 70 kilometres per hour for fear of humans and animals crossing the rail; by the time we start commercial activities, we must secure its path. "We will be running on 120 to 150 kilometres when the trains go commercial; that speed cannot accommodate human and animals crossing the rail, so to protect human beings and animals, we are going ahead with the fencing."
He said he had instructed CCECC to construct a Railway Academy, where Nigerians would be trained on how to operate the rail system. "I have told the construction company that they will need to build a Railway Academy, where experts will be employed to train Nigerians on how to operate the standard gauge," he said. "Nigeria is not a dumping ground for technology; you cannot dump technology on us unless you bring the technology with the expertise."