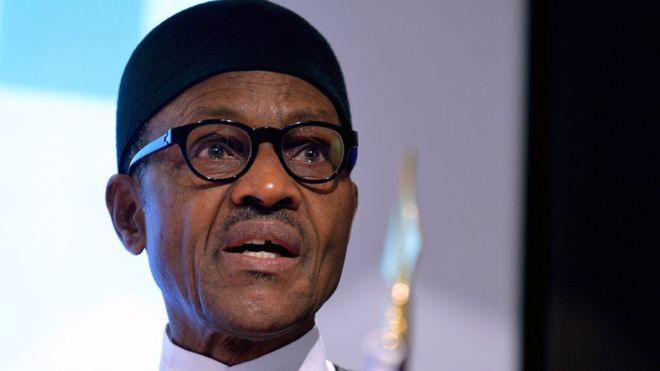 President Buhari, who gave the Tuesday deadline, believes officials have stolen about $150bn over the past decade
A deadline for Nigerian government departments to ensure all financial transactions pass through a single bank account expires at the end of Tuesday.
The move is intended to make it easier to monitor government spending and stamp out corruption.
The account will be managed by the central bank and it is estimated that commercial banks will lose $10bn (£7bn) when the money is transferred.
Departments that fail to comply by midnight (23:00) will face sanctions.
President Muhamadu Buhari, who gave the order to close the multiple bank accounts, has said that he believes government officials have stolen about $150bn over the past decade.
Obadiah Mailafia, the former deputy governor of Nigeria's Central Bank, told the BBC's Focus on Africa radio programme that it has been easy for fraud to take place because the government did not know how many bank accounts each ministry held.
"They provided avenues for corrupt ransacking behaviour in the past. So the thinking of government was to centralise these accounts so they are easier to monitor," Mr Mailafia said.
The BBC's Abdullahi Kaura Abubakar in the capital, Abuja, says the recent implementation of a single account for state finances has also helped Kaduna state track down funds.
The state has reportedly uncovered 25bn naira ($13m; £8m) it previously was not aware existed, he says.